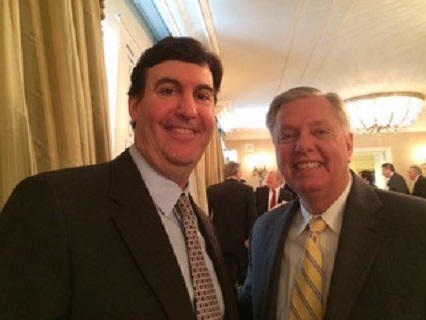 WHP Alum Larry Greenfield (LA/Bear Stearns) with Sen. Lindsey Graham (R) of South Carolina

Kudos to the Wexner team for inviting balancing perspectives on Jews and politics as we approach the 2018 mid-term elections in the United States. The substantive content in Jewish text, history and contemporary ideas of our studies in the Wexner Heritage Program in Los Angeles inspired me and empowered my intellectual contributions as a speaker and columnist with the Jewish Journal.
In addition to my service in U.S. Naval Intelligence Reserves, I have also worked in a senior capacity with the Claremont Institute, the Jewish Institute for National Security Affairs, the Reagan Legacy Foundation, the Republican Jewish Coalition, the Jewish Republican Alliance, and the Tikvah Fund. These are all superb resources for continuing political education.
It is good for the Jews to have access to and influence in both political parties. Jewish conservatives and liberals are both informed by Jewish values and we share Jewish history and Jewish destiny in a complex and glorious, but often dangerous world. We all seek security for Israel, the blessings of American freedom and a culture of respect, tolerance, pluralism, and religious liberty.
The slogan of Jewish liberals is "Tikkun Olam," but this term is incomplete. The most well-known reference to this language in the tradition is found in the Aleinu prayer: L'taken olam b'malchut shaddai, to "repair the world under God's sovereignty," which implies a much broader reading.
For example, capital punishment was favored in biblical and rabbinic law, but with strict requirements for evidence. Exceptions to allow abortion if the mother's life was threatened did not mean the tradition did not consider a fetus a sacred, potential human life. "Choose life" is as important a Jewish value as are individual reproductive rights. And individual liberties should also apply to pro-Israel students seeking fair play on "politically correct" campuses, or to conservatives confronting biased media.
Jewish voters should also consider the strong economic performance of the GOP — rising consumer confidence, black, Hispanic and women employment, and how national prosperity helps all. We acknowledge our nation's generous legal immigration policies while maintaining that illegal border crossings offend the rule of law, the security of immigrants and the economic opportunities of blue collar workers. These too are Jewish values and come from the same impulses for justice that drive Democrats to champion other view points.
Beyond the rhetoric of domestic Jewish "values," which I believe are more subtle and nuanced than modern progressive politics, are the very real Jewish "interests" in U.S. foreign policy.
Republicans, loyal to President Reagan's "peace through strength" agenda, consistently out poll Democrats in their support for Israel. Congressional Republicans and grassroots conservatives robustly stand with the Jewish state, sharing concerns about radical Islamic terrorism and the demonization of Israel at the UN, in European left-wing circles, and in academe. The GOP promotes the rebuilding of the American military after years of neglect and has actively endorsed the U.S.-Israel security, intelligence, economic, trade and moral alliance. The Iron Dome system, which saves Israeli lives and deters greater assault by Israel's enemies, is a successor to President Reagan's missile defense initiative that was widely scorned and mocked by Democrats.
President Trump has moved the U.S. Embassy to Jerusalem (long promised by every President and Congress since 1995), abandoned the anti-Israel UN Human Rights Council and challenged the Palestinian "pay for slay" terrorism agenda by cutting U.S. aid to the Palestinian Authority and closing the PLO office in Washington, DC. The President has told the truth about Iran's nefarious activity in the Middle East and has re-imposed sanctions on the Mullah theocracy and has made progress to halt North Korean aggression.
Furthermore, the Republican agenda includes aggressive action against ISIS, sanctions on Russia's Putin for his bad acts in Syria and Eastern Europe, confronting Chinese intellectual property theft, successfully lobbying our NATO allies to contribute more to European security, and well negotiated new trade deals with allies Mexico and Canada.
I am a Republican because the GOP best promotes my Jewish values:  pro-Israel, pro-security and pro-economic growth. I welcome constructive conversation with any member of the Wexner network and encourage us all to vote.

Get To Know The Author
A Wexner Heritage Program Alum (LA/Bear Stearns,) Larry Greenfield was national executive director of JINSA and has held senior positions with the Claremont Institute, the Reagan Legacy Foundation, the Israel Cancer Research Fund, and the CA Republican Jewish Coalition. His columns appear in The Jewish Journal. He is a wealth advisor in L.A.