Seventy-two hours after the largest mass murder of Jews in American history, politics had divided our Squirrel Hill community. For the two of us, it culminated with the-anything-but-normal Tuesday night after 11 of our friends and neighbors were brutally killed praying inside their synagogue. In a feeble attempt to listen to the trauma experts' advice to go back to "normal," we scheduled a business meeting. However, amidst the backdrop of a controversial Presidential visit to Pittsburgh just hours earlier, the two of us couldn't help but share our first-hand experience of the past two days. This is the new "normal" that takes over your life when an antisemitic murderer changes your hometown forever. So, we shared our thoughts on the peaceful/aggressive, gatherings/protests organized to process/politicize the tragedy by a group of local grassroots/national partisan organizations who aimed to heal/co-opt our community's grief and pain.
It became abundantly clear that in this hyper-partisan environment littered with hate speech and divisive agendas, two sane individuals could have a radically contrasting opinion of a commonly shared experience. We were disheartened by how easily our different political views robbed us of our compassion; we both committed to diligently working toward helping formulate a narrative from this tragedy that will forever include "and the ENTIRE community came together and emerged stronger than before." We saw no other way to create some good out of an otherwise devastating moment.
To combat the fractures within our community, we challenged one another to bring together 13 members of our local Jewish social networks from across the spectrum of beliefs (levels of observance and political,) set aside our often-significant differences, and joined together to rededicate ourselves to the bedrock principles of both the Jewish tradition and this great nation. We decided on one objective: to write a jointly penned letter informing local leaders of the unifying actions to combat antisemitism and hate speech at the community level, while inviting our elected leaders and officials to follow our lead at the national level. We then decided to "publish" our results as a full-page ad in the Pittsburgh Jewish Chronicle.
We are excited to share with you what came of this initiative. We demonstrated what is possible when members of our Jewish community set aside differing political identities to come together in the name of practical solutions and healing. We committed to creating the space for candid and difficult conversations to happen for the sake of lifting our entire Jewish community, with room for all under our collective big tent.
As the letter states, in the coming weeks and months our group will invite others to join us as we work to develop practical solutions to the various problems we face as a people and a nation: no political agendas, just bottom-up common-sense solutions to problems facing our communities while increasing the way in which we peacefully engage in public discourse.
Though we both have different "formation stories," Daniel's rooted in Wexner as a member of the 2007 Pittsburgh class and Drew's in JFNA's National Young Leadership Cabinet (Class of 2012,) we are having a shared "Wexner Moment." It is precisely partnerships like these that unify skill sets and shared experiences, which will ultimately bridge the divides that exist within the American Jewish community. We are committed to focusing on the thread that unites us all rather than the differences that drive us apart.
We stand at the bottom of a daunting mountain. We are blessed with Sherpas who will guide, mentor and challenge us through the journey. We look forward to leveraging the Wexner network as we begin our climb and look forward to connecting with many of you as we begin to rise.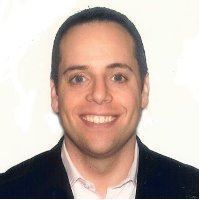 Get To Know The Authors
Wexner Heritage Alum Daniel Berkowitz (Pittsburgh 07,) is a serial entrepreneur, team leader and strategist with over 15 years' experience developing concepts into plans and executing those plans into successful realities. I'm adept at fundraising, business development, strategy and motivating teams to success. Currently, as the Managing Partner of Atlas Development Co., I am working to change the brick and mortar face of Pittsburgh, blowing dust off the diamond, transforming sad and aging rust belt properties into happy, modern and relevant spaces for the young, vibrant and entrepreneurial Pittsburgh of today.
Drew Goldstein continues the pursuit of opportunities that enable him to teach and learn, co-create and develop, interact and collaborate, and present to and connect with people motivated by a common goal or vision. He has a proven ability and passion for spearheading change, designing innovative models, and executing sustainable plans designed to solve complex problems. Drew founded the RoundSquare Group, LLC, a consulting firm servicing for purpose organizations and entrepreneurial ventures in the areas of strategy, governance, and leadership/organizational development.