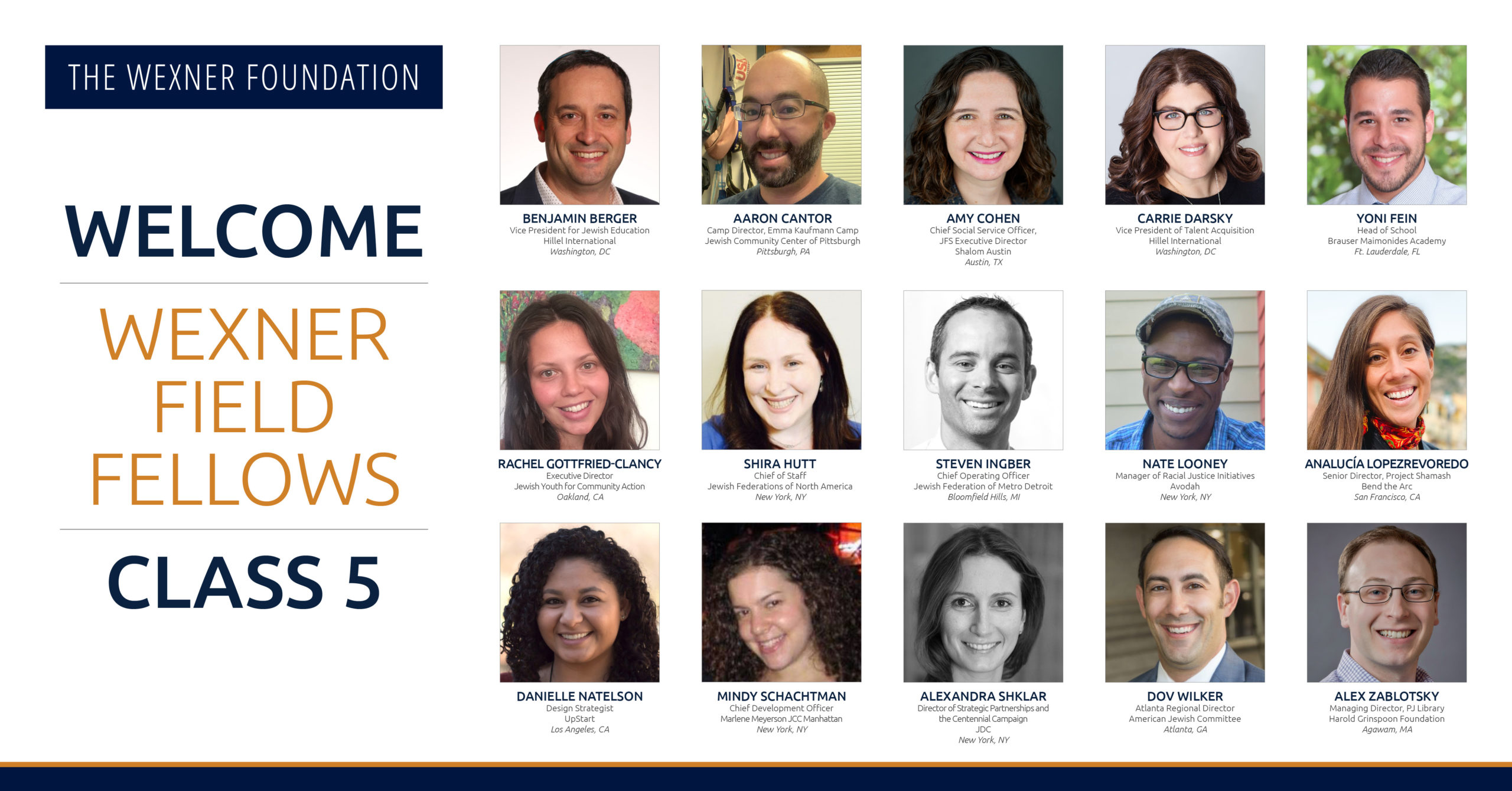 Jewish professionals will receive professional development and education in leadership and Judaic studies over the course of three years
The Wexner Foundation, in partnership with the Jim Joseph Foundation, is pleased to announce Class 5 of the Wexner Field Fellowship. In what was the most competitive pool to date and in the middle of a pandemic, no less, 15 outstanding professionals were selected for this three-year intensive program. Utilizing the diverse, cohort-based learning that is the hallmark of The Wexner Foundation programs, Field Fellows will be exposed to different approaches to leadership and tools for addressing pressing issues in the Jewish community, while being integrated into The Wexner Foundation's vast network of more than 3,000 professional and volunteer leaders in North America and Israel, including the 45 outstanding professionals who are currently in the Field Fellowship Program, as well as 40 Alumni.
Complete list of Class 5 Fellows:
Benjamin Berger, Vice President for Jewish Education, Hillel International, Washington, DC
Aaron Cantor, Camp Director, Emma Kaufmann Camp, Jewish Community Center of Pittsburgh, Pittsburgh, PA
Amy Cohen, Chief Social Services Officer, JFS Executive Director, Shalom Austin, Austin, TX
Carrie Darsky, Vice President of Talent Acquisition, Hillel International, Washington, DC
Yoni Fein, Head of School, Brauser Maimonides Academy, Ft. Lauderdale, FL
Rachel Gottfried-Clancy, Executive Director, Jewish Youth for Community Action, Oakland, CA
Shira Hutt, Chief of Staff, Jewish Federation of North America, New York, NY
Steven Ingber, Chief Operating Officer, Jewish Federation of Metro Detroit, Bloomfield Hills, MI
Nate Looney, Manager of Racial Justice Initiatives, Avodah, New York, NY
Analucía Lopezrevoredo, Senior Director, Project Shamash, Bend the Arc, San Francisco, CA
Danielle Natelson, Design Strategist, UpStart, Los Angeles, CA
Mindy Schachtman, Chief Development Officer, Marlene Meyerson JCC Manhattan, New York, NY
Alexandra Shklar, Director of Strategic Partnerships and the Centennial Campaign, JDC, New York NY
Dov Wilker, Atlanta Regional Director, American Jewish Committee, Atlanta, GA
Alex Zablotsky, Managing Director, PJ Library, Harold Grinspoon Foundation, Agawam, MA
The Wexner Foundation has more than 30 years of experience developing excellence in Jewish professionals and volunteer leaders in North America. The Wexner Field Fellowship was created in 2013 in partnership with the Jim Joseph Foundation to focus on developing promising Jewish professionals' leadership skills while enveloping them in a rich network of Jewish colleagues. Wexner Field Fellows engage in a diverse, cohort-based leadership learning program. Fellows are selected based on their past accomplishments, current motivation and engagement, and exceptional attributes they will contribute to the cohort of 15 diverse Jewish professionals of which they will be a part. Class 5 will start the program virtually and ultimately come together through in-person intensive institutes where they will be exposed to Jewish educational and professional growth opportunities, while addressing their unique needs of career and personal progress.
"The need to support emerging professional leaders in the Jewish ecosystem has never been more pressing. As we've seen during this unique application cycle, the field is richly blessed. I am excited about the ways in which these 15 mid-career Jewish professionals will contribute to the Wexner Field Fellowship and more importantly to the Jewish organizations and communities they will lead," said Rabbi B. Elka Abrahamson, President of The Wexner Foundation. "This new cohort of transformational leaders will add mightily to the community of Wexner Fellows and Alumni shaping the Jewish future."
As with the first four classes of Field Fellows, Class 5 is comprised of dynamic Jewish professionals at pivotal moments in their careers. Fellows work in Jewish federations, summer camps, advocacy and social justice organizations, day schools, national organizations and local institutions across North America. To get more info about each Fellow, please click here.
"This cohort represents the Wexner Foundation's ongoing commitment to elevate diverse voices and perspectives among leaders in Jewish engagement and education," says Barry Finestone, President and CEO of the Jim Joseph Foundation. "There are deeply committed, talented leaders across the Jewish professional landscape. The Wexner Field Fellowship offers 15 of them a special opportunity to learn and grow at a moment filled with immense challenges and opportunities."
As part of this three-year intensive professional development program, Wexner Field Fellows:
Become part of a selective cohort of lifelong professional learners.
Learn with amazing leadership teachers and Jewish educators.
Receive one-on-one professional coaching and Jewish learning, along with access to funds toward customized professional development opportunities.
Develop a nuanced appreciation for the diversity of the North American Jewish community.
Focus on developing strengths in adaptive leadership, storytelling, difficult conversations, negotiation and other crucial leadership skills.