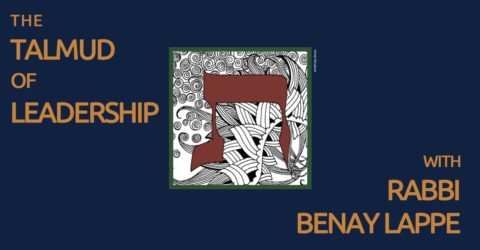 In 5783, we bring you another original online Wexner series, The Talmud of Leadership, with Rabbi Benay Lappe. 
Distinguished scholar, author, award-winning educator, and founder and rosh yeshiva of SVARA: A Traditionally Radical Yeshiva, Rabbi Lappe will immerse us in her distinctive approach to the Talmud inviting us personally, and as leaders, to architect meaning and hope amidst the "crash" of much of Judaism as we know it today.
Previous experience with Talmud study is welcome but not necessary.
To maximize your learning in the series, we encourage you to take advantage of at least one (or both!) of these two pre-series options to ground you in Rabbi Lappe's approach to Jewish meaning making and change:
Option 1:
Watch Rabbi Lappe's 17 min Eli talk, "An Unrecognizable Jewish Future"
Option 2:
As a special privilege for our Network members, on October 12th, 2022 at 8:00 P.M. ET (5:00 P.M. PT/ 7:00 P.M. CT) we will kick off our series with an intensive intro, a crash course into Rabbi Lappe's methodology for studying Talmud. Join us for this festive 90 minute interactive session over zoom, laying out a roadmap for navigating the "crash" and relevance of our Master Story. You can attend this session with or without watching the ELI talk. This is sure to be a rich and stimulating session, and we invite you to gather for it together with fellow local Wexner alumni in a sukkah over a laptop and a meal!
After this special "Season Premiere," each of The Talmud of Leadership sessions will be 30 minutes long and will take place on Thursdays at 12:00 PM ET/ 11:00 AM CT/ 9:00 am PT/ 19:00 IT on the dates listed above.
We look forward to seeing you at The Wexner Foundation's 5783 online series, The Talmud of Leadership!