The Wexner Israel Fellowship, Class 30, gathered earlier this month in Rhode Island for the Wexner Israel Opening Institute. Only two months after being accepted into the program, these nine very diverse Israelis had the first in-depth opportunity to get to know each other as a cohort, to further explore Wexner's values of leadership and peoplehood and to find our own relationship with these values as leaders.
The Institute started on Friday, August 10th, in Cambridge, with a lecture by Professor Richard Parker on The Role of Religious Identity in US Politics, History & Culture. This was followed by a lecture by Dr. Rachel Fish, who discussed the Trends and Tribulations of The Jews of America. I think both lectures were eye-openers for anyone not raised in America, in order to understand both the origins and the forces behind American culture, values and policy, as well as the perspective of the American Jewish community and its relationship with Israel.
The nine Israeli fellows then left for Rhode Island. Once settled in a beautiful house, the institute was launched with the "Life Journeys" of each fellow. We heard inspiring stories of immigration, of resilience, of love for the land of Israel, stories of leadership and sometimes of failure and stories of families, of joy and of loss.
Spending three days together in a house, taking care of each other and sharing meals together made us feel literally like a family. Each fellow took a leadership role such as giving morning Kavanot, introducing our speakers and leading a debrief for each day.
One major highlight was hearing "Dream Trusts" from two of our fellows. Through these case consultations we saw the power of crowd-wisdom at work. Given the different perspectives of our group, we came up with effective solutions and suggestions that the two fellows had not considered before. We also saw how these lessons were relevant and could be applied across our different working fields. A non-judgmental, "safe and brave space" environment encouraged fellows to be vulnerable and open-up in a way that strengthened our cohort in an entirely different level.
This environment was perfect to conduct a "Resetting the Table" (RTT) Workshop, facilitated by Eyal Rabinovich. The workshop intends to develop a skill for listening and understanding across divides. Not everyone felt comfortable sharing their most personal political views and discussing with their peers highly controversial issues. But RTT's approach taught us that it is indeed possible to carry these deep and open conversations without ending in explosive arguments and damaging relationships. We learned how to slow down the conversation, create space for reflection and understanding, and practiced the skill of truly listening by reflecting back the other person's main points before trying to convey our own.
The Institute was concluded by a Deep Listening and Sharing session by Or Mars, Vice President of the Foundation, which left us feeling wholehearted, peaceful and ready to get back to our families with a positive attitude.
We would like to send a very special thank you to Elisha Gechter, Program Manager, Wexner Israel Programs at Harvard, for planning this outstanding retreat.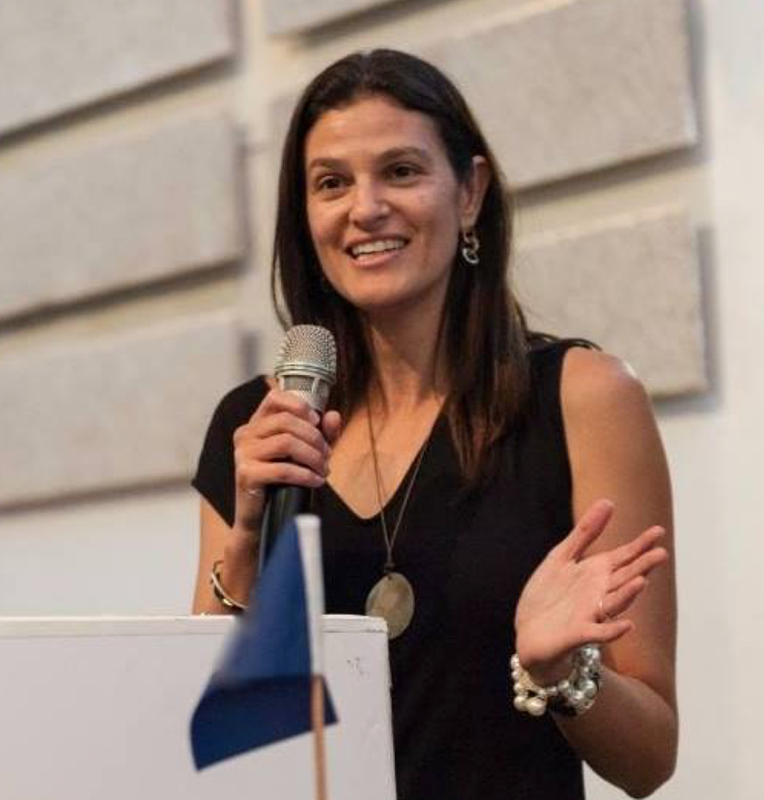 Get To Know The Author
New WIF Member Nicole Hod Stroh (Class 30) is the COO of ANU-Making Change, a nonprofit organization that promotes civic engagement and activism to address Israel's most critical socio-economic issues. Nicole is responsible for ANU's strategic planning, operations, resource development and financial management. Nicole has particular expertise incorporating systems thinking to engage communities and build movements aligned towards a common goal. She is behind the development, leadership and implementation of numerous campaigns and projects in the areas of early childhood, shared society and gender equality. Prior to her work at ANU, Nicole promoted economic development initiatives for Bedouin women in the Negev. Nicole made Aliya from Colombia in 2009. For the past 16 years she has held various management positions in organizations in the US, Latin America and Israel. Nicole holds a BA in Political Science from NYU.