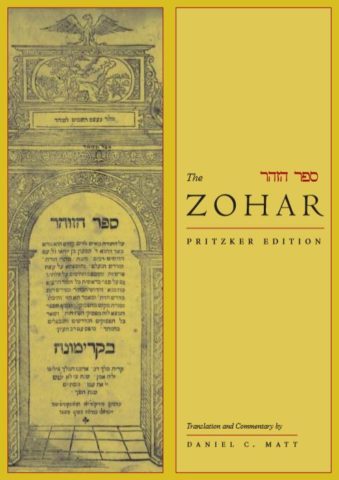 As many of you know, several years ago I completed my annotated translation of the Zohar (The Zohar: Pritzker Edition). Now I am starting to teach Zohar online. Beginning January 16, 2019 (through February 20), I am offering a 6-session course on Wednesday evenings, from 6 pm – 7:15 pm, Pacific time, via Zoom. After this initial course, we will continue with additional courses.
We will be exploring Volume 1 of The Zohar: Pritzker Edition. The course is open to anyone who is interested in exploring Zohar. There is no requirement for fluency in Hebrew or Aramaic or any extensive background in Jewish sources. I will at times refer to the original Aramaic text, but the course is intended primarily for those have not yet studied Zohar extensively or even at all.
Video recordings will be available to anyone who has registered. The cost of the course is on a sliding scale from $150 – $250. For further information, please visit my Facebook page here and look at the top post or email me here.
I look forward to studying with some of you soon. Please share this announcement with anyone who might be interested.

Get To Know The Author
Daniel Matt is a teacher of Jewish spirituality and one of the world's leading authorities on Kabbalah and the Zohar. He has been featured in Time and Newsweek, and has appeared on National Public Radio and the History Channel. He has published over a dozen books, including The Essential Kabbalah (translated into seven languages), Zohar: Annotated and Explained, and God and the Big Bang: Discovering Harmony between Science and Spirituality (revised edition, 2016). Several years ago Daniel completed an 18-year project of translating and annotating the Zohar. In 2016, Stanford University Press published his ninth volume of The Zohar: Pritzker Edition, concluding the Zohar's main commentary on the Torah. For this work, Daniel has been honored with a National Jewish Book Award and a Koret Jewish Book Award. The Koret award called his translation "a monumental contribution to the history of Jewish thought." For twenty years, Daniel served as professor at the Graduate Theological Union in Berkeley, California. He has also taught at Stanford University and the Hebrew University of Jerusalem. Daniel lives in Berkeley with his wife Hana.