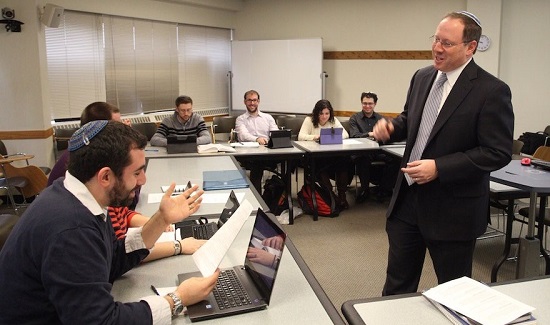 The Jewish community and our Wexner community mourn the tragic death of Rabbi Aaron Panken, Ph.D., z"l. Rabbi Panken, 53, President of Hebrew Union College-Jewish Institute of Religion and Wexner Graduate Fellowship Alum, Class 8, was a cherished colleague, brilliant teacher and friend to so many. Our sense of loss is overwhelming. If there is one strong river of truth flowing through the many, many memorials being written and spoken about Aaron, it is that he possessed the ability to make each and every person he met feel as if the relationship he had with you was special. He was the consummate mensch; "the best of us" said his dear friend and colleague Rabbi Michael White. Rabbi Panken was a beloved faculty member for the Wexner Heritage Program. One Heritage student remembered him as a kind, sweet, Talmudic master — always accessible; reliably authentic. He was a one of a kind human being; caring and ceaselessly curious. When he stepped into the role of HUC-JIR President in 2014, he articulated his vision beautifully. In Rabbi Panken's words:
I dream of a time when HUC-JIR can educate exceptional NFTY kids to raise their level of Jewish education and leadership skills, and forge a creative, exciting Jewish future; when we teach and inspire gifted college students, to help remedy the unfortunate lack of resources in Reform Jewish life on campus; when we offer learning for lay leaders to help them build future Jewish institutions of promise and vision. As for our alumni, we seek to ensure that they remain on the cutting edge of their fields, gaining the newest skills and knowledge they need for each of the new challenges they face, as they continue to grow in their careers.

I dream of a time when HUC-JIR hosts annual conferences, where we invite our Movement and the Jewish world's best and brightest, to debate the key issues of our day from many perspectives, all informed by voices from across the broad spectrum of Jewish opinion. Let us debate Reform Zionism; Pluralism and Denominationalism; Judaism and the Environment. Let us talk about Medical Ethics and Gun Control, but let's do it from a highly informed and expansive stance that knows our tradition and our contemporary world.

I dream of an HUC-JIR where our students gain a greater fluency in Hebrew; where we strengthen the relationship with Israel and Progressive Jews around the world; where students graduate steeped in the depth of Jewish tradition, yet aware of and proficient in all the ways of applying that tradition in our contemporary world, whether through pastoral care, institutional leadership, applied ethics, or social media, the internet, and distance learning.

I dream of an HUC-JIR that continues to build and promote Reform Judaism in Israel, welcoming Reform Jews from around the globe to our Jerusalem campus, and adding mightily to the 84 Israeli Reform Rabbis we have ordained thus far, and the many other professionals we have trained b'medinat Yisrael.

I dream of an HUC-JIR that is cognizant of the realities of social change, yet responsive and responsible, to the boundaries and ideals suggested by our tradition. And I dream of an HUC-JIR that will serve as a resource to the entire Jewish people to help us as we encounter our ancient traditions, and reimagine those traditions, when necessary, for our changing world.
His dreams were just unfolding thanks to Rabbi Panken's remarkable leadership. We are bereft that he will not live to see the fullness of his dreams realized. We are the grief-stricken disciples of our Aaron. His students, colleagues, friends and the community he served tirelessly and with dignity are deeply committed to carrying his dreams forward. His legacy is placed into our hands and his spirit infuses our visions. The Wexner community extends heartfelt sympathies to Aaron's wife Lisa Messinger, a Wexner Heritage Program Alum (New York 4), his children Eli and Samantha, his parents Peter and Beverly Panken and his extended family. May you find comfort among all who mourn…and there are so many Wexners among them… in Zion and Jerusalem.