Recently I was privileged to visit Sesame Place with over 40 Jewish camp professionals. As we gathered near the entrance and the big Sesame Place sign came into view, there was a palpable energy and excitement emanating from this group of adults….they were giddy! This space, marked by the famous street sign and Big Bird's smiling face, evoked childhood nostalgia and the safety and welcoming feeling of entering Elmo's neighborhood.
We were there to learn how Sesame Place became the first theme park in the world designated as a Certified Autism Center (CAC), transforming their park into a welcoming space for children with autism. When thinking about welcoming space, my mind wanders to my favorite Jewish space: Camp Ramah in the Berkshires. (I know it's cliché since I happen to also work at Foundation for Jewish Camp!) I spent nine summers as a camper and staff member in this place, and to this day, when I travel to camp for the annual alumni weekend, my heart literally skips a beat with excitement as I drive over Bulls Bridge. It's one of those old, quaint, one-car wide, wood-covered New England bridges and it's about 15 minutes outside of camp. Every time I make the drive, this bridge indicates I'm about to enter sacred ground…I too am giddy! I'm sure other campers and alumni have the same visceral reaction to certain landmarks around their own camps.
What do Sesame Place and camp have in common? Why do Bulls Bridge and a big green Sesame Street sign evoke the same feeling of entering a sacred space? I find this week's parsha, Parashat Shemot, particularly resonant and instructive. We're told that when Moshe approached the burning bush, he responded to God's call with "hineni" – "here I am!" and then removed his shoes and entered holy ground (Exodus 3:4-5). To me, this indicates that we are the ones who sanctify a place through our actions and our attitudes. In removing his shoes, Moshe transitioned from the mundane to the holy – God was in this place. And when Moshe entered it, he said, "Here I am" – he was open, vulnerable and truly present. From there, we revisit this same spot several chapters later, as this is Mount Sinai, the site for the revelation of the Torah. I take the idea that any space can become holy, but it's only through our intentional actions that we can revisit, reveal and sanctify it.
At Sesame Place, we got a behind-the-scenes tour to learn how they adapted – or, as I see it, revisited – their space. They were challenged to rethink a place they knew well and approach it from a perspective other than their own. They approached every ride, every building and every character with this new lens. They transformed storage rooms to sensory rooms and less frequented picnic areas to quiet places for families and children to decompress. They trained their characters and staff to learn how to communicate with children with different needs and developed a sensory guide so that parents could navigate the park to ensure their child could have a successful visit.
Sesame Place has retained its culture, identity and joy… it's still the "neighborhood" we all remember from our childhood. The changes that make the park a Certified Autism Center likely go unnoticed by most visitors. But for the parents for whom this matters, these changes make all the difference in the world as their children can now enjoy the magic. I'm inspired to see that making a space more accessible doesn't have to exist in opposition to the characteristics we treasure about it: it amplifies them and allows more people to engage with them. That is my hope for Jewish camp and Jewish communal spaces in general.
Our challenge today, as a Jewish community, is creating sacred spaces and/or revisiting and rethinking our current spaces so that our families and children can enter as their whole-selves: present, vulnerable and open.
However, we must still take the proper and intentional actions to sanctify these spaces and overcome the various barriers for many of our families and children, which include:
Security: Unfortunately, we live in a time where the ever-growing threat of antisemitism feels omnipresent. Our institutions are faced with the significant challenge of upgrading facilities to include cameras, security guards and gates. How do we ensure the safety of our children and families while still preserving the sanctity of the space? How do we say "our doors are open" when they must be closed and locked?
Accessibility: For many, Jewish life and the spaces we take up are not actually welcoming and our buildings have real barriers to entry, some physical and others emotional. For adults and children with disabilities, our buildings are often literally inaccessible, whether it's because they lack ramps and elevators or because the services and programs do not account for children and adults who process sound, light and information differently. Far too many of our Jewish spaces leave them on the outside.
Diversity and Inclusivity: While accessibility is the barrier to those with disabilities, there are those who do not feel comfortable entering our Jewish spaces for other reasons, whether it's the scars of a painful Hebrew school experience or the scars of feeling like an outsider. For Jews of Color, those with a wide range of diverse backgrounds, those in the LGBTQ community or interfaith families, our spaces and our community often do not reflect them.
Affordability: Each organization has a budget and a bottom line and to deliver excellence, we have notable costs. However, to be actively engaged in Jewish life in 2020 and to enter Jewish spaces, we're asking our families to spend an exorbitant amount of money. For many, the price tag causes real sticker shock and is too high a barrier for them to engage…so they disengage as our Jewish spaces are too expensive for them.
These are just some of the barriers that many people face before entering Jewish spaces. I don't propose to have all the solutions to overcoming these challenges, but I do know we have to take a lesson from Sesame Place as we revisit and design our spaces. We need to be laser focused in our intentionality, designing places and programs that honor and maintain the most valued parts of our tradition while also thinking about and planning so every child and person can enter our space and be able to truly say: "Hineni – Here I am."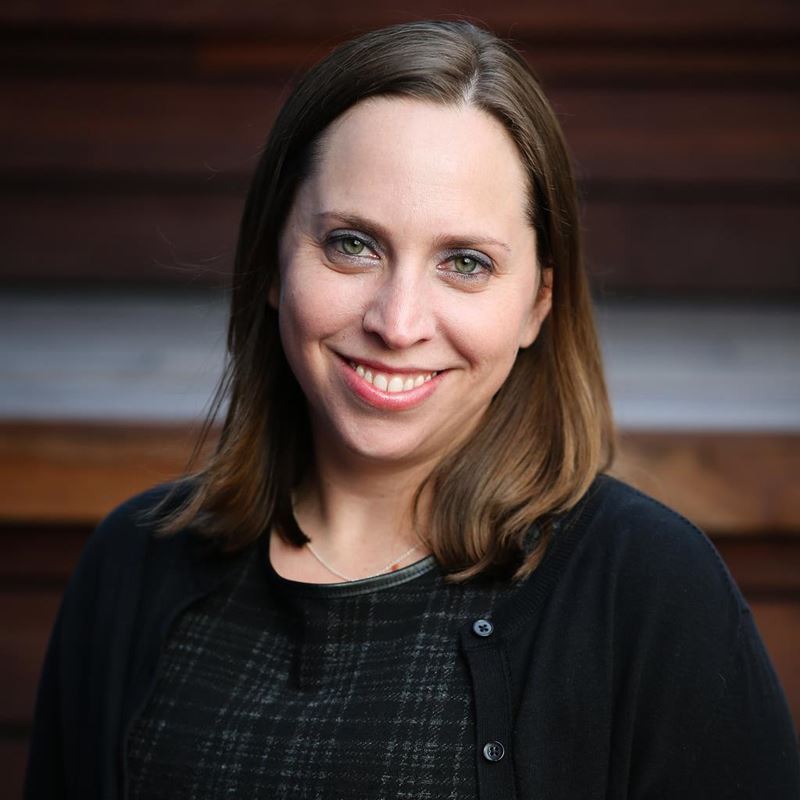 Get To Know The Author
Wexner Field Fellow Rebecca Kahn (Class 3) is the Director of Field Expansion at Foundation for Jewish Camp.
Other posts by this author ›