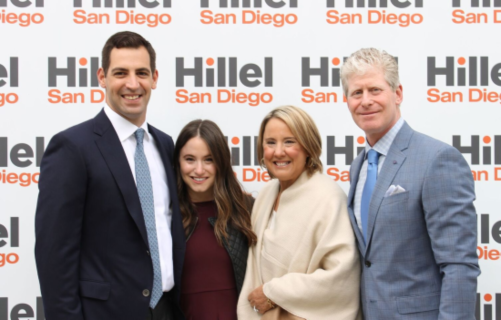 In Photo: WHP Alum Bob Lapidus and family being honored by Hillel of San Diego in March 2018
During my 22 years of service on the Board of UC San Diego Hillel — from Secretary to President, and for the past 14 years as Chair of the Facilities Committee — I led efforts to secure the land for the Melvin Garb SDSU Hillel Center and the long (and difficult) land acquisition and permitting process for the Beverly and Joseph Glickman Hillel Center at UCSD. This culminated in the unanimous approval of the project by the San Diego City Council on October 3, 2017, and we hope to break ground sometime early next year.
I credit two of my friends and Wexner Heritage colleagues, Jane Scher and Steve Solomon, for putting Hillel on my radar. Having been blessed with the gift of
the Wexner education, many of us in San Diego felt obliged to repay that gift. We identified Hillel as the place where we could have a meaningful impact. In fact, many of my Wexner colleagues and I helped guide Hillel for these past two decades. Through our collective efforts, we have influenced the lives of thousands of Jewish students to make a life-long commitment to a meaningful Jewish life, community and Israel.
At UCSD, we faced significant community opposition to locating the proposed Center just off campus and adjacent to a residential single family neighborhood in La Jolla. We could not have a permanent space on a state university campus due to constitutional restrictions requiring separation of church and state. I have been asked what sustained our team and how we persevered over this long period of time. Well, it took the faith and effort of many individuals, and I would also offer a reflection grounded in my personal life and Torah.
I am an avid cyclist. I have experienced a lot of the world on two wheels, including circumnavigating Israel twice to raise money for a K-12 school in the Sha'ar HaNegev. It is one of my passions and is a part of my identity. I know some people see riding on an open road as too risky. I won't debate that point but, in acknowledgment of the risks, I wear a wristband called a "Road ID," which has my vital info and who to contact, just in case. To me, it is like a mezuzah or hamsa for "good luck." Along with the vital info are etched two bits of Torah that are meaningful to me:
Chazak, Chazak V'nitkhazek  ("Be Strong, Be Strong and Together we shall be strengthened.") When riding with a group, we share the effort of riding out front into the wind and draw strength from the pace set by the rider we are following.
Kol Demama Daka, is from the Prophet Elijah and means "A still small voice." It is a reference to where we are most likely to perceive a spiritual presence, in small beautiful things. Through the beauty yet agony of ascending a mountain pass, you experience that still small calming voice in the rustle of the wind through the aspen leaves.
I think these teachings also frame the context of our long effort to build the Hillel Center at UCSD. Chazak, Chazak, V'nitkhazek. Only through the commitment and shared strength of the efforts of our community were we able to persevere and maneuver through this difficult and arduous process.
And Kol Demama Daka is what guided us through all the back noise and acrimony, all the false arguments and hyperbole of the opposition, as well as the self-doubts as to whether we were on the right path. And "That Still Small Voice" is also what gave us the peace of mind to know that our efforts were for a higher purpose. And that our goal to build this Jewish space, a sacred space, would be realized.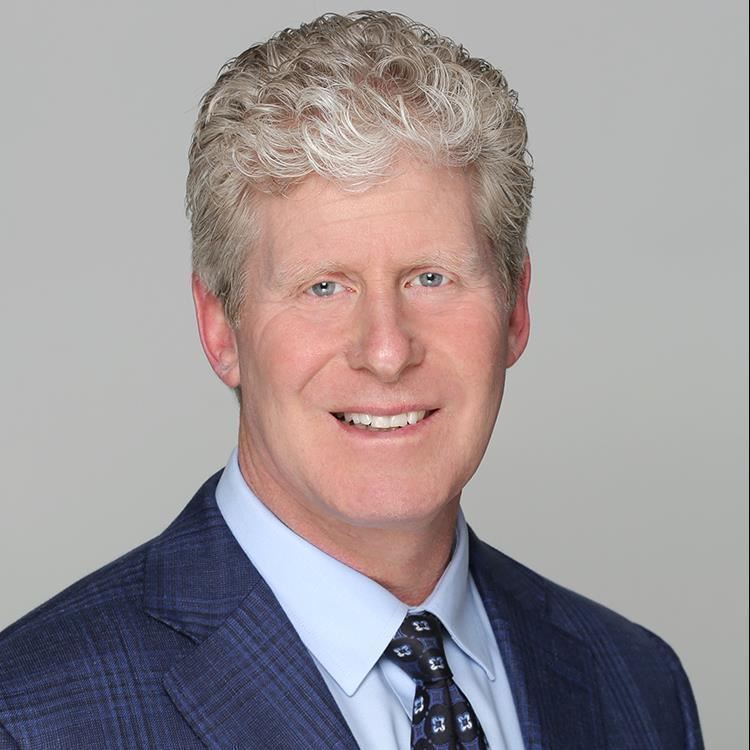 Get To Know The Author
Wexner Heritage Alum Bob Lapidus (San Diego 2) received his JD degree from California Western School of Law, summa cum laude. For the past 12 years he has served as general counsel for private investment companies and operating businesses. Together, Bob and his wife Susan have dedicated themselves to the Jewish community and support of Israel. Bob started his community involvement at Congregation Beth El and was elected as the youngest President of the Board in the history of the Congregation. He has served on the Board of UJF and joined the Hillel of San Diego Board in 1996, taking many leadership roles which led to approval of plans for the Beverly and Joseph Glickman Hillel Center at UCSD and his being honored by Hillel of San Diego in March 2018.