Jewish volunteer leaders will study Judaism and Leadership over the course of two years

The Wexner Foundation is pleased to announce three new cohorts of the renowned Wexner Heritage Program with dynamic volunteer leaders from Cleveland, OH, New England (New Haven, CT, Hartford, CT, and Western Massachusetts) and Portland, OR.
In Cleveland the program is supported by the generosity of the Jewish Federation of Cleveland and other local donors, in New England by the Jewish Federation of New Haven, the Jewish Federation of Greater Hartford, the Jewish Community Foundation of Greater Harford, the Jewish Federation of Western Massachusetts, the Harold Grinspoon Foundation, local Wexner Heritage Alumni and other local donors, and in Portland by the Jewish Federation of Greater Portland with additional support from local Wexner Heritage Alumni and other local donors.
Twenty outstanding volunteers from each community were selected through a highly competitive process for this two-year intensive program. Utilizing the diverse, cohort-based learning that is the hallmark of The Wexner Foundation programs, Wexner Heritage Members will be exposed to different approaches to leadership and tools for addressing pressing issues in the Jewish community, while deepening their understanding of Jewish texts, history and values. Members will also be integrated into The Wexner Foundation's vast network of more than 3,000 professional and volunteer leaders in North America and Israel.
Members in Cleveland:
Robert Fishman
Rachel Immerman Glickman
Michelle Hirsch
Michael Hoenig
Gayle Horwitz
Shoshana Dessler Jacobs
Gabrielle Jerusalem
Ethan Karp
Hallie Kogelschatz
Justin Lappen
Mariely Luengo
Yoel Mayerfeld
Lisa Mayers
Leon Mendlowitz
Jared Miller
Cameron Orlean
Erika Rudin-Luria
Rachel Rothner Stark
Erica Starrfeld
Richard Uria
Members in New England: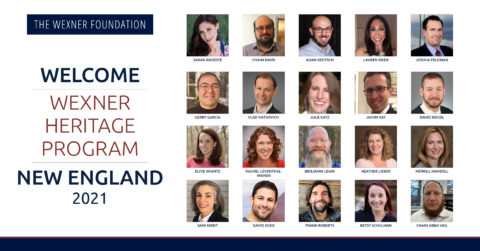 Sarah Aroeste Blaugrund
Chaim Davis
Adam Deutsch
Lauren Eisen
Joshua Feldman
Gerry Garcia
Vlad Katsovich
Julie Katz
Jason Kay
David Kieval
Elyse Krantz
Rachel Leventhal-Weiner
Benjamin Lewis
Heather Lieber
Merrill Mandell
Sami Merit
David Ochs
Frank Roberts
Betsy Schulman
Chaim Abba Vail
Members in Portland: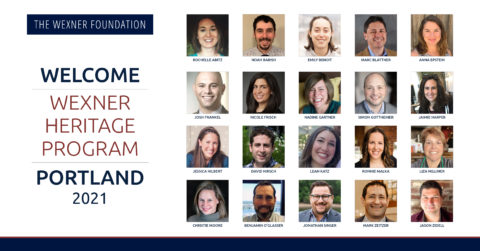 Rochelle Abitz
Noah Barish
Emily Benoit
Marc Blattner
Anna Epstein
Josh Frankel
Nicole Frisch
Nadine Gartner
Simon Gottheiner
Jaimie Harper
Jessica Hilbert
David Hirsch
Leah Katz
Ronnie Malka
Liza Milliner
Christie Moore
Benjamin O'Glasser
Jonathan Singer
Mark Zeitzer
Jason Zidell
The Wexner Foundation has more than 35 years of experience developing excellence in Jewish professionals and volunteer leaders in North America. The mission of the Wexner Heritage Program is to expand the vision of Jewish volunteer leaders, deepen their Jewish knowledge and confidence and inspire them to exercise transformative leadership in the Jewish community. More than 2,300 leaders from 34 North American cities have participated in the program.
"We are delighted to welcome these 60 outstanding leaders as they embark upon a transformative journey of Jewish learning and leadership development," said Rabba Yaffa Epstein, Director of the Wexner Heritage Program. "In the post-Covid world we find ourselves in, developing excellent leaders is critical for the Jewish community, and we know that these new members will take their place alongside our accomplished Alumni as visionary change agents in Jewish life. We are so grateful to our partners in these five communities who share Les and Abigail Wexner's vision of investing in the future of our community by offering training and enrichment to the volunteer leaders that will guide us into the next generation."
To learn more about the Wexner Heritage Program, please click here.