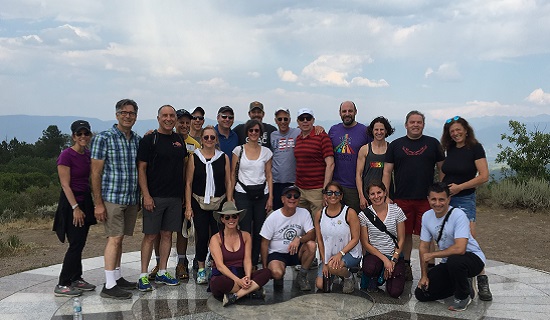 In photo: Members of the WHP Alumni Council getting on the balcony, or at least to the top of the Rim Trail.
Don't lead, listen.
I have always viewed serving as a delegate on the WHP Alumni Council as a tremendous privilege. It's a humbling experience to be among such accomplished, learned and committed people. It plugs me back into the Jewish socket and demonstrates the force and raw talent the Foundation has harnessed for more than 30 years, a force that I am grateful to be a part of. It's an intimate opportunity to meet the new Heritage classes, just beginning their leadership journeys, but already so accomplished and involved. It's a time to think creatively about the Foundation, its mission and execution and our yearly meetings have become a forum to visualize, learn, create and just dream. How often do we allow ourselves to dream? The very nature of the Council is a call to action.
Despite this, each year my attendance is last minute: a last-minute juggling act, a last-minute room request, at least 10 follow-up emails with the ever-patient, understanding and encouraging Foundation team. Poor behavior on my part, quite frankly, no leadership points accrued, I admit this readily, but I will ascribe it lazily as a symptom of over-extension. Then I arrive in Aspen and realize how much more everyone else is overextended but totally dedicated, and consequently I feel like a true slacker. An uncomfortable tug at my heart ensues. But my heart is in it. Truly it is. Great lessons are simple when one is open to receive them: magic happens when you show up.
I live by my gut, for most people their second brain, for me my first. This doesn't mean the analytical mind is entirely forsaken, rather the circuitry I lay down speaks to a commitment to cultivating the Divine intelligence within and following it. I am a leader who mostly feels led, led by something far greater than my imagination, which I thought was vast but isn't; far wiser than my planning, which I thought was meticulous but pales; far sharper than my vision, which I thought was clear, but can be murky. Curiosity and trust have brought me to unforeseen geographies filled with unusual opportunity, delight, absurdity, camaraderie, complexity and understanding. Most of which could not be predicted, mapped out or imagined by my analytical mind.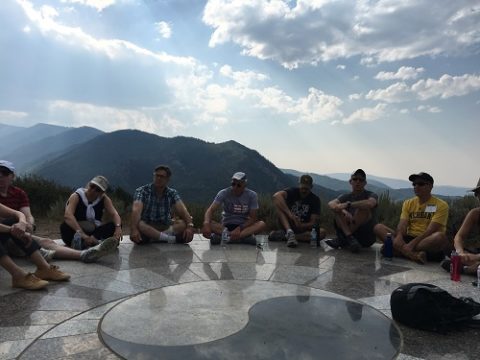 We are currently in the month of Elul. The high holidays are upon us and the WHP Alumni Council Annual Meeting has become a kind of 'Elulian' pre-game practice. In order to prepare for it, each member of the Council is assigned homework and arrives deep in reflection and ready to discuss their leadership journey over the past year: their pitfalls, successes and hopes for the Jewish world and beyond. It's about accountability, responsibility, truth-telling and adjustment. It's also about action and team-building and returning to our respective communities energized and motivated.
But my takeaways lead me back to the magic and mystery of that indescribable Divine intelligence within: the true leader, visionary and task master. The intelligence that understands that vulnerability and gratitude are essential leadership traits. That the smallest measures to overcome ourselves make an impact on our evolution and on our communities. That life challenges provide purpose which force us to adapt and modify behavior—and if we listen to the wisdom, ascend. Caterpillars must halt all biological drives to become butterflies. They digest themselves. Leaders, as we enter our power years and try to go to our highest levels, are faced with the same choice. The amplitude of our decisions in overcoming certain drives that no longer serve a purpose leads to true transformation. There is something far greater in all of us beyond our hard-wired patterns.
May this Elul wake us all up to the true power of who we are.
May we find comfort in the unknown.
May we not contract from adversity.
May we be led by our souls and find true soul connections.
May Jewish leadership be infused and lead by Divine intelligence.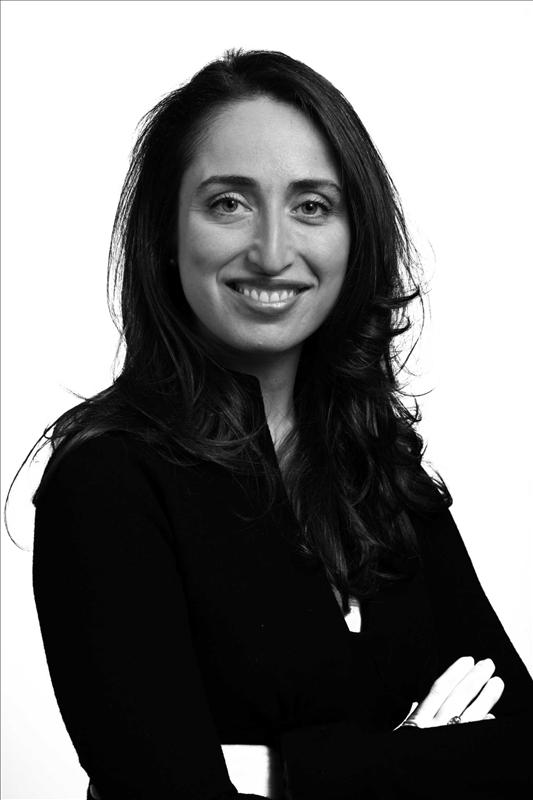 Get To Know The Author
Wexner Heritage Alum Sonya Bekkerman (New York RSJ) was in the first RSJ Wexner Heritage class and is a Wexner Heritage Council Delegate. She is co-founder of The Sonmar Group consultancy that specializes in global art curation. She co-founded Tondoart, a mobile iOS app that focuses on contemporary artists. Previously she was Senior Vice President at Sotheby's. She is currently Vice President of Divine Love World Charity which supports humanitarian programs in South India.