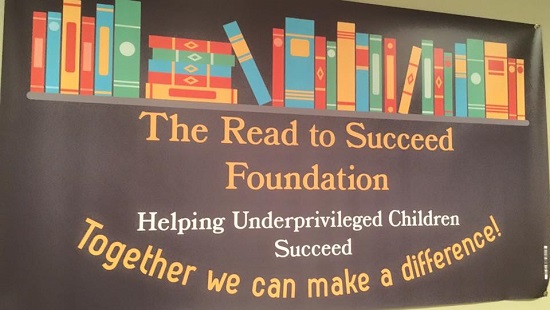 At age 12, I dedicated myself to fighting illiteracy by promoting a positive future for underprivileged children in the Columbus, Ohio area and beyond. This project started when I realized the most meaningful way I could honor my upcoming bat mitzvah would be with a project that would be close to my heart and help my local community. Through my love of reading and passion for making a difference, I developed The Read to Succeed Foundation. Without books at home, it is easy for children to slip behind in school, making it even more unlikely to escape their current situation of poverty. To try to stop this from happening, I have established mini-libraries within food pantries and I distribute books to low-income schools and programs serving disadvantaged youth. I have chosen to focus on food pantries because I believe families should not only receive support with nutrition, but "brain food" for their mind through receiving books of their own. Over the past 4 years, I have worked with 40 organizations and donated more than 36,000 books with a value of over $300,000.  Although my efforts are focused on central Ohio, the impact of the Read to Succeed Foundation has reached as far as Israel and Liberia.
My project strives to bring the gift of reading and the power of literacy to underprivileged children, leaving a positive impact on their lives and ideally breaking the cycle of poverty. I hope to empower these children with the one thing which can never be taken away from them, education, while allowing them to have something special of their own. I also aim to give parents the joy and purposefulness of reading a book to their child. For example, I started a program that provides toddler board books to imprisoned mothers who record themselves reading books and then the books and recordings are sent home so their young children can hear their mother read to them.
I collaborate with representatives of food pantries and organizations to find new locations where we can to create and maintain libraries. We promote and support school book drives and school projects to create or replenish mini-libraries. I manage volunteers who assist me in organizing the books in my home distribution center and speak to children's groups about making a difference. As with most start-ups, I also court media to cover our work, which has been reported on both in digital articles and TV news, and I write my own stories as well to try to get more people in the community involved.  Currently the Foundation is launching a new initiative to provide the opportunity for young budding philanthropists to develop their own Read to Succeed Foundation chapters. (So, in case you have teens who are interested, please contact me). I believe when the community works together, the possibilities of making a difference are endless!
Through all of this work, I have become more confident, discovered the leader within myself by learning to take initiative, network and form close relationships, and speak out on behalf of the under-served. The tremendous support the community donors provide my initiative and the hard work they do to improve our world inspires me and gives me hope. Because of this, when I present, write or speak I always end with the thought, "Together we make a difference." Through collective acts of caring and kindness the world will become a better place for everyone. Please check us out on Facebook and our website.
Get To Know The Author
Emily Spector is a rising junior at New Albany High School in suburban Columbus, OH and a member of the newest Wexner Service Corps cohort. Emily was selected recently as a 2018 Diller Teen Tikkun Olam Award Finalist for her work on the Read to Succeed Foundation. To learn more about the Wexner Service Corps, click here.