President Reuven Rivlin, Zvi Ziv (left) and Dr. Sameer Kassem (right) – co-chairs of the Initiative, CEOs and senior managers in Initiative partner companies, April 2017.
Co-Impact Initiative – The Partnership for a Breakthrough in Arab Employment was founded in 2013 by graduates of Class 24 of the Wexner Israel Fellowship, established by two partners; Dr. Sameer Kassem, department head at Carmel Hospital, who serves as co-chair of the Initiative, and Adv. Yifat Ovadia, currently deputy chair of the Initiative. Additional partners in the formulation and founding of the Initiative include alumni from Class 24: Yotam Dagan, Roy Folkman, Netaly Ophir-Flint, Avner Vilan, Udi Adiri, Tziona Koenig Yair, Jonathan Yaari and his spouse, Ariella Yaari.
This is the first and only initiative to date, established by a class of graduates during their year of studies.
Graduates of Class 24 and other classes in the Wexner Israel Fellowship, as well as other Wexner programs in the United States, are partners in the Initiative's activities and take part in:
Brainstorming and formulating guiding principles
Active membership in committees
Leading cooperation efforts with government and civic parties
Assisting in risk analysis and management measures
Participating in the business forum's mentoring program
Strategic thinking
Resource development, and more.
Alumni of Wexner programs in Israel and who are involved in some capacity include:
Wexner Israel Fellows: Sharon Abraham-Weiss (Class 23), Yosef Abu-Jafar (Class 21), Eli Bahar (Class 11), Maurit Beeri (Class 20), Roy Keidar (Class 19), Avinoam Armoni (Class 1), Dorit Karlin (Class 14), Barak Loozon (Class 21), Yaron Neudorfer (Class 12), Itamar Offer (Class 12), Yishai Sorek (Class 22) and Yossi Tamir (Class 1).
Wexner Senior Leaders: Itzik Sabato (2017).
Wexner Heritage Program: Roni Rubinstein (New York 2) and Marc Suvall (New York 4) .
Individuals: Sydney Hazan and Orr Rachlevsky.
Staff: Angie Atkins, Dana Savoray-Hadar, and Raanan Avital. And of course, Rabbi Elka Abrahamson, who gladly supported the presentation of Initiative ideas during the year of studies in Boston and has associated the Initiative with the Foundation ever since.
The Initiative was managed for the first five years by two graduates of The Wexner Foundation year-long program – founder Yifat Ovadia (Class 24), and Keren Morag (Class 13) – as co-CEOs. As of January 2019, Nawa Jahshan Batshon has been serving as the CEO of the Initiative. Zvi Ziv and WIF Dr. Sameer Kassem (Class 24) serve as co-chairs of the Initiative.
The Initiative
The vision of Co-Impact – The Partnership for a Breakthrough in Arab Employment, is full and commensurable integration of the Arab population in the Israeli economy, in a way that strengthens Arab society as well as the sustainability and strength of the society as a whole and the economy.
Arab employment is one of the main challenges facing the Israeli economy and society. There are big gaps between Jews and Arabs in unemployment rate, in fields of employment and in level of income. These gaps jeopardize the rights of Arab society and have a negative impact on the economy and on the chances for social solidarity.
The Challenges
Arab society, comprising 21% of Israel's citizens, does not benefit from the country's economic growth and is pushed to the lower end of the job market.
Arabs comprise only 5% of employees in the private sector and only 0.3% of managers in leading, Jewish-owned companies. Companies with more than 1,000 employees with an annual turnover of more than $50 million employ approximately 70% of the workforce in Israel.
A study by the Bank of Israel found that under-employment of Arabs causes an annual GNP loss of about $8 million.
In 2013, a study by the Israel Democracy Institute determined that to deal effectively with structural discrimination in Arab employment, employers must "initiate change in organizational culture and remove internal barriers that make it difficult for marginalized groups. This is a continuous market failure that requires joint intervention of all stakeholders to reach a solution."
The current situation, in which 21% of the population contributes only 8% of the GDP, is not sustainable. Just as important, the leading employers in Israel are unable to find sufficient employees with the skills necessary to enable the required growth, while at the same time there are around 140,000 young Arabs who are unemployed or work in jobs that do not match their education and abilities and are interested in appropriate employment.
The Vision

The initiative focuses on achieving a breakthrough in employment rate and quality of employment of Arabs in Israel. The starting point of activities stems from the business advantage of the employment of Arabs, and providing services toward processes of internal change, learning and expertise that will enable them to achieve change. The Initiative's mission is to create:
A breakthrough in the percentage of Arabs in appropriate employment in the private sector and in the level of jobs.
Equal opportunity for Arab integration in skill-appropriate employment.
A change in perspective among employers: in-depth work on barriers and implementing a perspective of business profitability in the employment of Arabs.
Improving the economic and employment situation within Arab society alongside creating a sustainable equal society and economy. Reducing marginalization and improving the relations and coexistence of Jews and Arabs in Israel.
Initiative operations: The Initiative has two leading and innovative strategic axes:
Enlisting the business sector to leadership and to a breakthrough: This axis is based on a yearlong study carried out by the consulting firm Shaldor to assess the profitability, barriers, opportunities and generators of change among 50 of the 200 leading companies in the business sector. One of the outputs of the study is the definition of four operational models for intervention. Validation of the models was carried out in six of the largest companies in various industries chosen as pilot companies. The operational model effectively enlists the company to commit to concrete goals and to measure the percentage of Arab workers in appropriate employment, creating an inclusive and diverse company. The activity is carried out through building a practical and effective internal work model channeled toward a clear business advantage in the employment of Arab society.
Building a joint network: Alongside the consultancy/study process, a network of stakeholder partners from the various sectors was established – third sector, business sector, Arab society, philanthropy, and government. The working premise was that it is possible to achieve a long-term, sustainable breakthrough with a broad scope only through processes of cross-sectorial influence. The Initiative chose to implement the collective impact model, an approach that incorporates all stakeholders from all sectors, toward a solution to a complex social problem with a broad scope, through long-term commitment to a vision, measurement, transparency and common agenda. Co-Impact serves as an enabler in the process.
Our impact after two and a half years of activity with leading companies: we are currently accompanying 22 of the leading companies in Israel in processes of deep, measurable, and significant change in the percentage of Arab employees and in diversity and inclusion of these companies.
Some examples of the significance of Initiative activities with the core companies:
Today the accumulated number of placements is more than 2,500 employees, including 340 managers and HQ employees with an academic degree.
During 2018 alone: 126 Arab employees entered HQ positions in Initiative core companies along with 840 unskilled workers for a total of 966 placements in the core companies, twice as many as in 2016.
Three of the companies have 20% Arab employees, equal to their representation in the population as a whole.
The companies that employ professional workers only showed an increase of 1.5-7% in Arab employees, a sharp rise in the number of employees in professional jobs.
Eight colleague groups, in eight companies, numbering a total of 100 Arab employees – meet once every two months to discuss and advise the company on the necessary organizational and cultural changes, empowerment and advancement of current employees, and finding and recruiting new employees.
Business Forum – 200 chairpersons, CEOs, VPs and senior managers of companies that Co-Impact accompanies, are partners in a Jewish-Arab business forum that brings to the table the perspective of employers and the economy and leads the change.
The mentors program of the Initiative business forum includes 100 Jewish-Arab pairings.
In parallel, we have brought together a network of stakeholder partners from the various sectors, each one represented in the Initiative's Board of Directors, and active in several forums, among them: NGOs forum, Young Arab Leadership forum, Arab-Jewish business forum and others. The Initiative is also partnered with the Ministry for Social Equality.
The Initiative plans to work over the coming decade with 100 of the 200 leading companies in Israel, as core companies that lead together with the Initiative toward deep change, to create a measurable qualitative and quantitative breakthrough in the employment of Arab society in Israel. The breakthrough will be achieved through a broad  Jewish-Arab partnership, working together effectively and systemically.

Pictured above, the annual Initiative conference in Kuseife – July 2018 illustrates the work model and the change that is taking place. The conference brought together the leaders of the business sector in the Initiative core companies, heads of Arab local authorities, Arab and Jewish workers and managers, philanthropists and partner NGOs, to summarize the achievements and discuss the challenges. The meeting took place in the southernmost Bedouin village in Israel, with a call out from the employers to Arab candidates to join their companies in appropriate employment.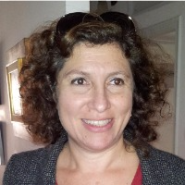 Get To Know The Author
Wexner Israel Fellow Alum Keren Morag (Class 13) is the former Co-CEO of the Collective Impact Initiative and current Collective Impact Model Knowledge Director. Until 2012 she worked at Taldor Computer Systems as VP Professional Services Division. In this capacity she was in charge of more than 1000 IT Professionals and over 60 clients. Prior to that she worked for 13 years at the Ministry of Immigrant Absorption. Ms. Morag's previous positions was assistant to a member of parliament members. Ms. Morag received her BA magna cum laude in International Relations and a MA in Communications, both from the Hebrew University in Jerusalem. She holds an MPA from Harvard's Kennedy School of Government as a Wexner Israel Fellow.