The first Wexner Alumni Social Justice Summit in 2017 identified, as a key issue facing the Jewish world, the African asylum seekers in Israel.  This week, some of us were able to resuscitate and get a comprehensive deal signed between the State of Israel and the United Nations High Commissioner on Refugees, which would have resolved the issue.  Hours after the signing of the deal, Prime Minister Netanyahu abruptly cancelled it.  So we are back to the streets (last night in Jerusalem) and the politics.  "Wexnerim" with connections to Education Minister Naftali Bennett, Public Security Minister Gilad Erdan or Finance Minister Moshe Kahlon are encouraged to be in touch with me.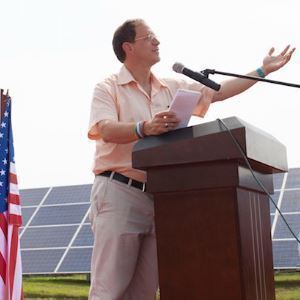 Get To Know The Author
Wexner Graduate Fellowship Alum Yossi Abramowitz (Class 3) is the co-founder of the solar industries in Israel, East Africa, West Africa and elsewhere; he has been named by CNN as one of the six leading Green Pioneers worldwide.  Yossi made Aliya to Kibbutz Ketura in the Arava Desert with his wife, Rabbi Susan Silverman, and their five children, and now lives in Jerusalem.  He was part of the official Israeli delegation to the Paris Climate Conference and was the first private sector candidate for the Israeli Presidency.  Prior to making Aliya, Yossi was honored with the Covenant Award for Excellence in Jewish Education for spearheading major initiatives such as MyJewishLearning.com, birthrightisrael.com, InterfaithFamily.com, BabagaNewz and a dozen other projects.