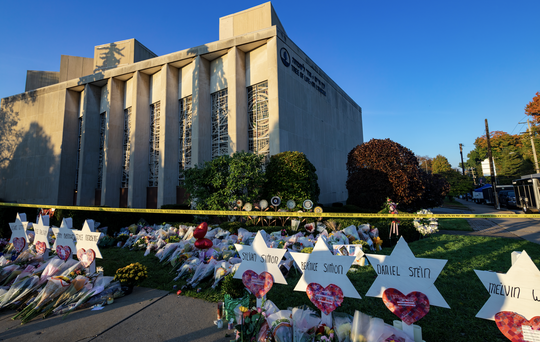 I am writing this sitting in the airport waiting for a flight on my way to Boston for the first in-person board meeting ADL has held since the start of the pandemic. My mind is running through our governance protocols and all the logistics and I'm crossing my fingers we still remember how to produce these meetings face-to-face.
This is the Monday after a gunman, espousing racist and antisemitic rhetoric, killed 10 people in a Buffalo supermarket, which means I have spent much of the weekend tethered to email and on calls where I hear the truly awful details that our Center on Extremism has uncovered. As horrifying as they are (and I assure you, they are), I wasn't surprised. Just another day at the office. Even though it was a Saturday. And then a Sunday. No rest for the weary. On to Boston!
When I was approached to contribute to WexnerLEADS, I was asked to write about antisemitism. While I know a fair amount – more than I ever wanted or, frankly, ever thought there was to know – at ADL, I'm far from the expert. I asked instead to explore the challenge of working for a place where a typical day means addressing an endless stream of hateful content.
I'd like to tell you that I have figured out how to keep work at work and how the images I see and the stories I hear don't keep me up at night. But they do.
I had been at ADL for about six months when the massacre at the Tree of Life synagogue happened. Followed by Poway. And Halle. And Colleyville. And now Buffalo. Right after an incident occurs we go into organized overdrive, and honestly, it feels great. Important. Meaningful. Exactly the way I thought it would when I took the job.
We work with communities, we identify suspects, we find social media footprints, we work to change laws, we work with law enforcement to find answers. Or as the marketing team will tell you, We Fight Hate for Good®. We make a difference.
It's also both humbling and daunting to play a critical role in these herculean efforts to make the world a better place.
It's the quiet moments. The days after. That's when the reality of this "work" settles in. Where my mind moves from the tasks at hand and focuses on the lives that have ended or those that have been forever changed. I combine that with all the near misses, the mind-bogglingly offensive videos, and the rancid, terrible statements that all come through our office every single day and it takes my breath away.
Fighting antisemitism and hate in this moment is a powerful place to be. The long hours feel purposeful. The gallows humor, bonding. But it. Is. Exhausting.
When I was given Jewish education funding as part of my Wexner Field Fellowship, I chose to go to a Jewish mindfulness retreat in Costa Rica. I thought I was beating the system. That it would be a nice (free!) vacation. I had no idea it would change my leadership, my life, and my relationship to how I approach my work, especially this work. I also had no idea how much I needed that.
At the Take a Breath Retreat, I learned to pause. To breathe. To separate. To move forward.
Like many of you, I'm sure, I am driven, focused, and ambitious. As my best friend likes to say, I don't meander! Maybe it's the New Yorker in me, but I want to get from point A to point B as efficiently as possible.
It turns out that to keep my sanity, I needed to start taking the long way. To incorporate more mindful practices and generally, a more "woo woo" way of thinking into my daily life. (I can't believe I just typed "woo woo" in a non-ironic way.)
At first making time for meditation felt almost annoying – I wanted to get up and go, not get up and sit quietly for 10 minutes. But the difference it made to how I felt starting each day was profound. It was disruptive – and I needed it to be. Disrupt the stress. Disrupt the catastrophic thinking. Disrupt the cynicism that was growing by the week.
I changed how I lead my team meetings. I made space to address feelings and not just to-do lists. I focused on bringing my whole self to work and asking my colleagues to do the same. We goofed around more, we talked about dinner plans, we talked about pets and go figure, our productivity went up. And so did our enjoyment of our work. Even in the face of all the vile and crazy that comes our way daily. (Note the old me would never say "made space" or "whole self" – let alone in the same paragraph – look at the growth!).
Some degree of burnout is to be expected in these jobs and between the content, the hours, and the intensity, how could it not be? Finding the in-between moments and the moments of pause is not always realistic or an available option in the moment. But having the tools to recognize and address when it starts to be too much is a good start.
It's not perfect – far from it – but it's better. And, really, so am I.
Get To Know The Author
WFF Alum Deb Leipzig (Class 3) is the Vice President of Leadership for the Anti-Defamation League (ADL).