I set the ten-second timer on Instagram and run in front of my iPhone. I count each of ten *pings* and get ready to lip sync for my life. This time, the song will be a 15-second excerpt from Frank Sinatra's I've Got You Under My Skin. I quickly run the words through my head once more before the filming starts: "I'd sacrifice anything come what might, for the sake of having you near."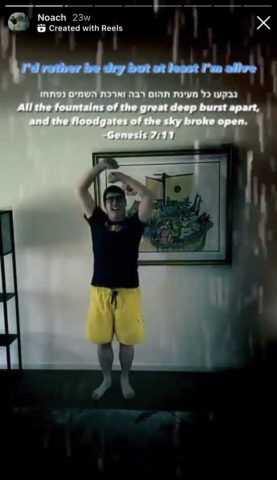 I've selected this song to illustrate part of this week's double Torah portion Tazria-Metzora, which contains detailed purification instructions for someone with tzara'at, skin disease. Once finished, I will join this clip with nine others, all depicting moments in these twin Torah portions with relevant songs.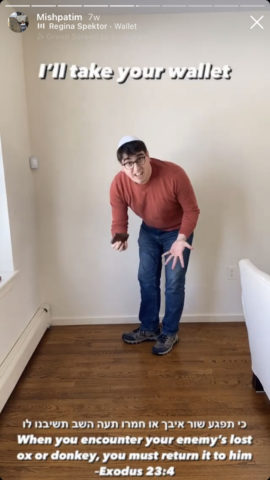 The timer ticks down to zero and I can't help but smile. As my lips move to Ol' Blue Eye's rhythms, I know I've found a joyous and meaningful way to make what could be endless ordinary pandemic moments special.
One of my favorite Jewish ways to mark time is through the annual Torah reading cycle. Each week, Jews from all over the world read the exact same parasha. We name most of our weeks with these Torah portions, we associate them with life cycle events (my Bar Mitzvah parasha: Naso; my wedding week parasha: Shlach L'cha), and we return to them again and again on a predictable schedule, even when so much else is disrupted.
The pandemic challenged all of us to rethink our relationship to time. But even without the opportunity to attend synagogue services in person and hear parashat hashavua chanted from a Torah scroll, the cycle went on.
After experimenting with the TikTok/Instagram Reels format for the high holidays, I wanted to continue marking time in a creative way. So, since the 5781 Torah reading cycle began back in October, I've made more than 250 mini music videos on Instagram[1] and TikTok of musical Torah commentary.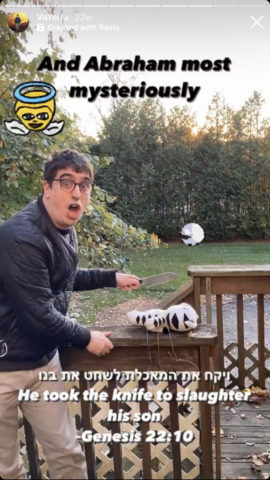 Every week, I find ten songs from genres ranging from folk to metal to showtunes to Ortho-pop that depict the texts and themes of the Torah portion, in a literal or thematic way. I gather household props and costumes, set up my tripod and film myself acting out the stories and lip syncing to the songs. In post-production, I have fun with Instagram's special filters and animated stickers. I also add captions and textual citations from the Torah.
Finding all this music has given me a deeper appreciation for the widespread impact of the Bible on our culture. For example, I found three different folk songs about the Binding of Isaac by the well-known singers Bob Dylan, Leonard Cohen and Joan Baez.
This project has also given me new lenses to interpret these classic stories. When Lady Gaga sings in her recent hit Rain on Me, "I'd rather be dry, but at least I'm alive," the biblical Noah's hardship becomes clearer. Regina Spektor's beautiful song Wallet about the experience of finding and returning someone else's wallet makes it easier to understand the importance of the commandment in Exodus to return lost property, even to your enemy. And who knew that Sinatra's longing could help us better understand the emotions of the metzora (the person with tzara'at)?
But more than anything, making these videos has given me a way to mark time during COVID. I love having a ritual for myself that I can share with others. On top of posting the weekly videos on social media, I also host a Zoom siyyum (concluding celebration) with family, friends and colleagues at the end of a Book. The next one will take place around Shavuot as we finish VaYikra (Leviticus) and celebrate our receiving of the Torah. There's always room for more people, so please let me know if you'd like to attend! I'm hoping that by the time we get to Simchat Torah, I may be able to host an in-person celebration for finishing this first round of TikTok Torah commentary.
At the beginning of this week of Tazria-Metzora, I received my first dose of the Pfizer-BioNTech vaccine. Today's ritual for recovering from an isolating illness is different from the ancient one for tzara'at. But it serves the same purpose as Sinatra helped me understand: it's "for the sake of having you near."
[1] To watch the weekly parasha videos on Instagram, click on the circles at the top of Daniel's Instagram profile.