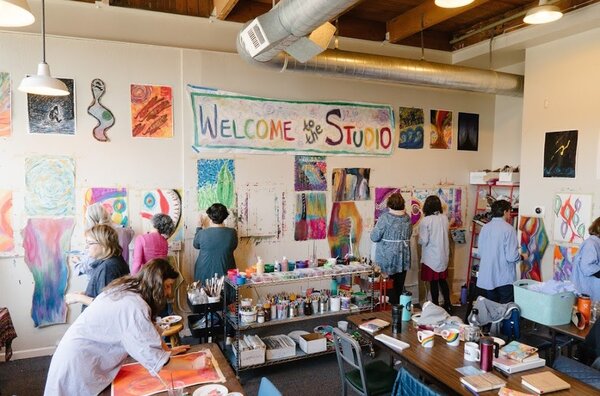 It's hard to believe that it has now been over a year since we had to temporarily close the doors to the Jewish Studio Project's (JSP) colorful, light-filled community studio in West Berkeley and, like everyone else, transition our entire organization to virtual. For the first five years of JSP, I had marked time by what was happening at the studio – the cranking up of the heat in January, the slanting of the light blazing through the 12-foot-high windows in the summer afternoons, the seasonal offerings written up on the huge glass program calendar hanging on the wall in the beit midrash section of the space. And I could see time passing through the accumulation of flecks of paint on the walls, left behind by past participants.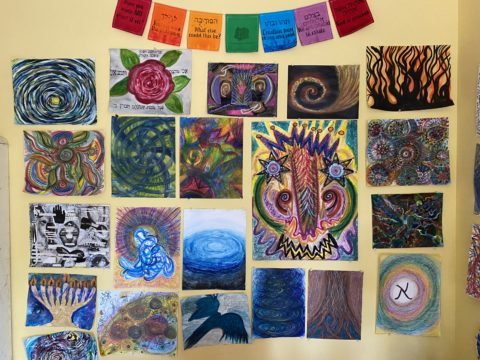 When we could be in person, folks would come to the studio from across the country. After studying a text and exploring the intellectual implications and personal resonances of the material, we would move "to the wall" to explore the images, associations and questions just below the surface through a process of exploratory art making. Each person would find a large piece of paper affixed to the wall with a border of masking tape, the buffet of rainbow-colored paints arranged in spectral order open before them, and begin to paint starting by, what we call, "making marks on the page." These initial marks would evolve over the course of 40 or so minutes of painting, each person following the energy of their own piece, letting their image emerge, rather than trying to paint something specific.
At the end of every session we advise people to take their piece home, whether they love it or not. Our pieces, we teach, continue to speak to us over time. Take them home with you, we encourage our participants, you might be surprised that a piece that seems messy and unclear to you now will continue to call to you, yielding new meanings over time. When we would finish up for the day, each person would peel off the tape around their image exposing a border of untouched paper and leaving behind an outline of their piece on the wall, the marks that missed their paper and landed on the wall around their piece.
After each of our week-long Studio Immersives I could look up at the wall and tell you who left which splatters and what image they had been working on. Like a reversed page of Talmud in which the center was blank but each person's commentary existed in colorful fragments around the outside edges of the page, their meaning unknown to me, but very much known to the person who left them. I could see time passing, learning happening, deep work being done through the marks left behind on the wall – blue, green, neon pink – the remains of engagement with text and personal process.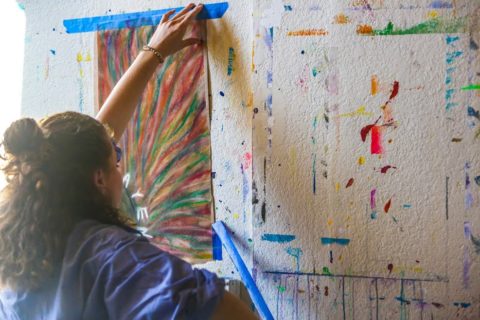 This process of art making and inquiry isn't just something I teach to others, it is the core of my own personal spiritual practice. Foundational to the facilitation of this work is that one must be what we call a participant facilitator, someone who is both holding the integrity of the process and engaging in the process themselves. Over the course of the past six years I have been a participant facilitator for hundreds of workshops with thousands of people. The Studio has limited open wall space so, rather than keep my own work up on the wall where I could see it, my pieces stayed in a folder in the closet of our back office, waiting for me should I ever want to re-engage them, should they ever want to surprise me with new meanings or interpretations.
And then, last March, COVID hit. We shut the Studio down and I moved my supplies home and turned what had been a second bedroom into my office/studio. After a few weeks of feeling shell-shocked at the change, we began to offer online programming in earnest, focusing first on supporting our alumni and core community and then expanding out to reach folks all over the world. Rather than being able to offer the light-filled studio space and opportunity to gather in-person, our programming changed to fit the circumstances we were in.
Over the past 12 months we have been offering ways for people to come together online to get what they need. Creating art and text study can provide:
a way to calm their nervous system,
a feeling of connection to something bigger,
processing the grief and challenge of these times,
accessing wisdom from tradition and from deep within themselves and
bringing forth new images and ideas to shape a new vision of the future.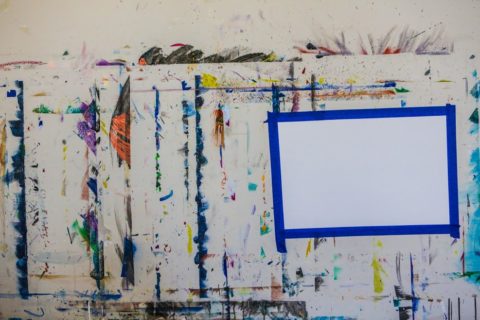 With everything now online, I could no longer see the marks on the wall left behind after each session. Instead, I began to count time through my marks on the page, my own images.
The wall behind my desk is now covered from floor to ceiling with pieces of paper of varying sizes covered in acrylic paint, oil pastel, watercolor and colored pencil. There are abstract images of spirals and circles, a heart with veins, a desert rose, a drop of water in a pool, fire blazing up on a black background. Each image was created while leading – that is being a participant facilitator in – a JSP program. Each one is a portal back into a particular point in the year, a way to touch back in on who I was then and what I was going through.
I look at my wall of images and see prayers for protection from when the country first shut down. I see art made in response to George Floyd's murder and the wildfires in California. I see the remnants of gelt wrappers from gelt my children ate last Chanukah turned into an image of a chanukiah glowing with candles. I see responses to Parshat Vayikra – this year and last. I see art made in response to a struggle with a colleague and to a challenging webinar. I see a celebration of a professional milestone and art made as an intention for the year to come.
This year of pandemic has changed so many things – where we do our work, how we do it and who we reach. For me it has also changed the way I count time. Rather than counting it by the colorful marks on the wall left behind by those I serve, I now mark the days through my own images made in response to the events of this past year. On every zoom meeting and in every virtual program behind me are my images – an expanded portrait of who I am and what this year has been. This year has taught me to treat my own images with as much reverence, care and curiosity as I advise others to offer theirs.
As we look ahead with cautious optimism to the future, may the lessons of this time stay with us and shape how we live going forward. In whatever ways we can – be it through writing, artwork, voice memos or photos – may we keep a record of what this time has been for us. May we remember the struggles, longings, insights and dreams that this year brought about. And may we each find ways to deepen into our own personal process – our own inner work – so that, post-pandemic, we might truly bring forth a different reality than the one we left behind a year ago.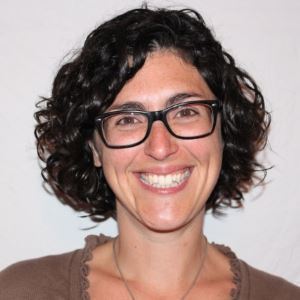 Get To Know The Author
WGF/DS Alum Rabbi Adina Allen (Class 21) is co-founder and Creative Director of The Jewish Studio Project, a new Bay Area-based organization that curates experiences using creative exploration to fuel Jewish learning, self-discovery and social change.