As a Wexner Heritage Alum, I know that leadership is not just about vision – it is about innovation and transformative vision.
That's what drew me to the Jewish Future Pledge.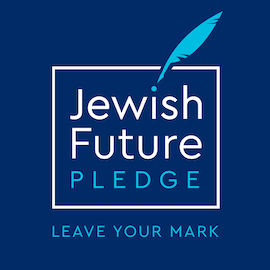 The Pledge is a new movement, only a year old. Its central idea is that if all Jews commit to giving 50% or more of the charitable dollars set aside in their Will to the Jewish people and/or the State of Israel, by 2050 we will have collectively raised $600 hundred billion for Jewish institutions and causes.
That's philanthropy on a huge, exciting scale that could fundamentally change the landscape of Jewish life. And an opportunity that is open to every Jew, whether they plan to leave $10 or $10 million in their Will. Imagine what could happen if a million people commit to ensure that the Jewish future is secure. I imagine that every child would be able to attend Jewish summer camp, every college student would find the Jewish resources they need on campus, every family would be able to pay membership dues and every organization would make payroll without constant stress. I imagine a flourishing of Jewish art and music and scholarship. In fact, all the above are initiatives I have worked on during my volunteer career. I know, firsthand, that no one person or family can fund or fix them all. But we can if we do it together.
It is open to every Jew in the world. It will affect every Jew in the world.
Another important piece of the Jewish Future Pledge is its emphasis on sparking intergenerational conversations about Jewish values and why the Jewish people matter. Growing up in Kansas, in a very small Jewish community, I learned from my parents of the importance of general civic involvement, but also of the imperative for Jews to be responsible for other Jews. It was a feeling of l'dor v'dor, that I was a link in the chain. I have always transmitted that connection to my children – and I knew it was beginning to take hold nearly 25 years ago when I asked my daughter to babysit so I could attend a committee meeting. "You go take care of the Jews out there, Mom," she said. "And I'll take care of the Jews in here!" As the pledge says, "Telling your story is the greatest gift you can give to future generations."
Whether it's because we're busy or uncomfortable or think we have more time, we may neglect to tell our children and grandchildren why we love being Jewish, why it's a part of who we are and why we want to take a pledge that gives half our charitable assets to Jewish causes.
The Pledge is not a donation; it doesn't promote any specific Jewish organizations or causes– you and those in charge of your Will decide where the charitable dollars go.
The Pledge is simply, and profoundly, a movement to secure the Jewish future. It takes five minutes to pledge but each signature has immense impact. That would show that we can connect and communicate our values. We can fund all the important and essential projects and institutions we need. We can create the tomorrow we yearn for so deeply.
Our biggest opportunity is right here.
Get To Know The Author
WHP Alum Julie Beren Platt (LA/Bear Stearns) is an advisory board member at Jewish Future Pledge.