This decision tree for educational planning cycles is a multi-level, interactive view of the three major approaches to curriculum design. It aims to support the design of stimulating learning of all kinds for all ages, to help foster ever more intentional, creative and bold design decisions that are aligned with a designer's goals and overarching vision. TWF Curriculum Design Tree also includes links to a "digital & non-digital tools inventory," about how and when to layer in which kinds of digital and non-digital teaching tools. The tools have been vetted and classified according to four overarching teaching and learning categories: creating, informing, processing and transitioning. We invite you to use The Wexner Foundation Curriculum Design Tree and share it freely.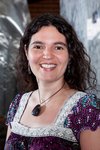 Get To Know The Author
WGF/DS Alum Dr. Tali Zelkowicz (Class 15) is Director of Curriculum and Research at The Wexner Foundation. For any questions regarding the curriculum design tree, please contact Tali here.