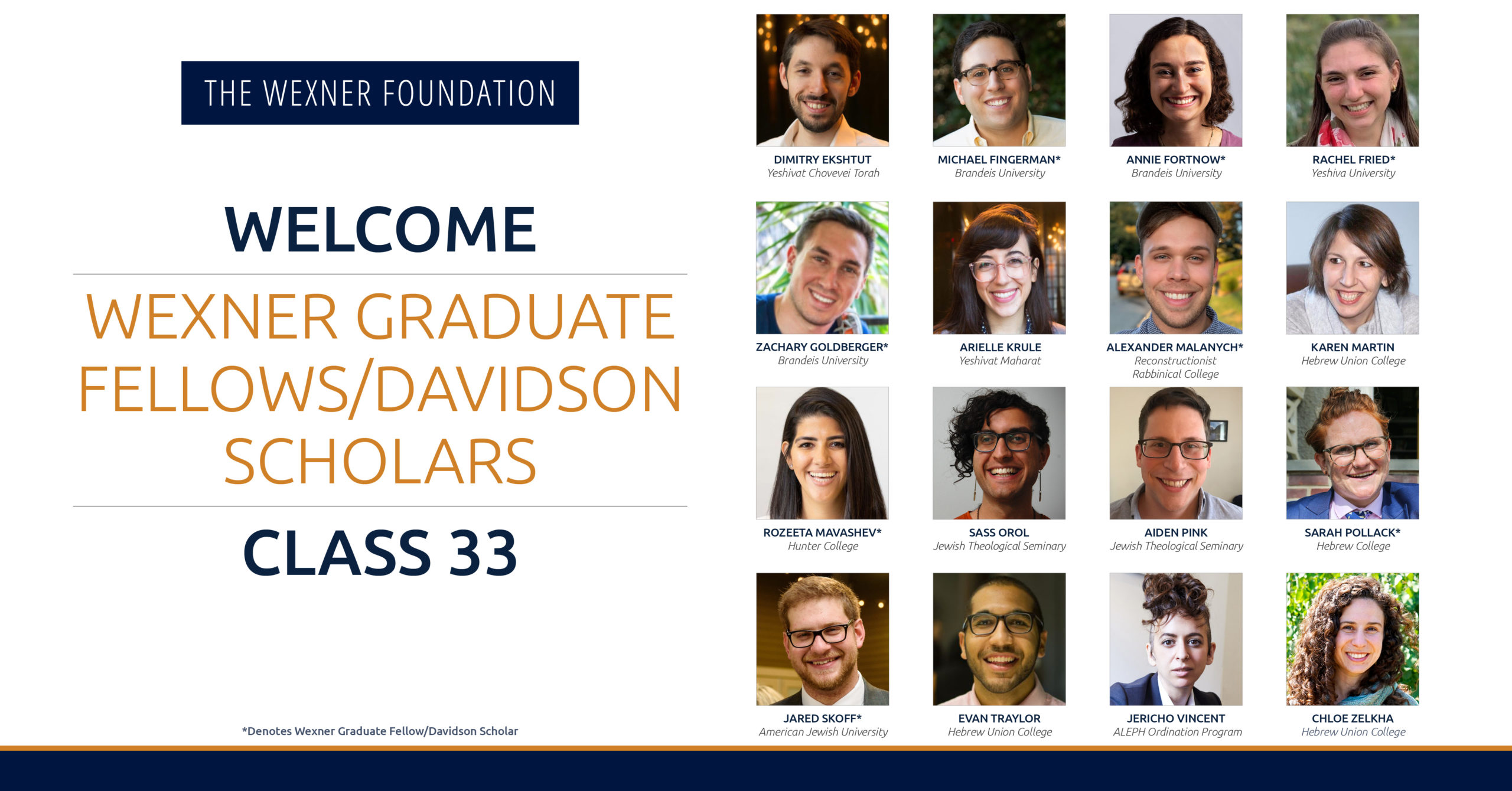 Outstanding individuals will receive leadership training as they pursue advanced studies.
The Wexner Foundation is pleased to announce Class 33 of the Wexner Graduate Fellowship/Davidson Scholars Program. After a particularly competitive selection process with an especially large and diverse applicant pool, these Fellows emerged as tremendous examples of leadership at this pivotal time in Jewish history. As these exceptional individuals pursue graduate training for careers in Jewish Education, Jewish Professional Leadership, Jewish Studies and the Rabbinate/Cantorate, they will participate in a prestigious four-year professional development program comprised of leadership training, cohort-based learning, peer support, professional mentoring and networking, developed in partnership with the William Davidson Foundation.
In order to more fully meet the unique needs of each Fellow in what will be a hybrid version of the program with virtual and (when it's safe) in-person programming, sixteen outstanding students were selected through a highly competitive process for this four-year intensive program. Utilizing the diverse, cohort-based learning that is the hallmark of The Wexner Foundation programs, Wexner Graduate Fellows/Davidson Scholars will be exposed to different approaches to leadership and tools for addressing pressing issues in the Jewish community, while being integrated into The Wexner Foundation's vast network of more than 3,000 professional and volunteer leaders in North America and Israel, including the 60 outstanding professionals who are currently in the Wexner Graduate Fellowship/Davidson Scholars Program.
Class 33 Fellows:
Dimitry Ekshtut, Yeshivat Chovevei Torah
Michael Fingerman,* Brandeis University
Annie Fortnow,* Brandeis University
Rachel Fried,* Yeshiva University
Zachary Goldberger,* Brandeis University
Arielle Krule, Yeshivat Maharat
Alexander Malanych,* Reconstructionist Rabbinical College
Karen Martin, Hebrew Union College
Rozeeta Mavashev,* Hunter College
Sass Orol, Jewish Theological Seminary
Aiden Pink, Jewish Theological Seminary
Sarah Pollack,* Hebrew College
Jared Skoff,* American Jewish University
Evan Traylor, Hebrew Union College
Jericho Vincent, ALEPH Ordination Program
Chloe Zelkha, Hebrew Union College
*Denotes Wexner Graduate Fellow/Davidson Scholar
These exceptional candidates have exhibited a strong personal commitment to the Jewish community, a record of demonstrated excellence in academic achievement and the potential to assume significant professional leadership roles in the North American Jewish community.
In addition to receiving generous funding, all Fellows are afforded unique opportunities for ongoing interaction with outstanding Jewish leaders and for extensive collaboration with one another.
Class 33 Fellows will start virtually and then come together in person for four years of Fellowship-wide Institutes and gatherings, building a cohesive community of Fellows while enhancing their individual leadership skills. Fellows receive leadership training, peer support, professional mentoring and networking across career choices and denominational affiliates, both during school and throughout their lives.
"We're thrilled to welcome this dynamic group into The Wexner Foundation fold and look forward to watching these graduate students grow and develop into their respective fields over the next four years and beyond," said Stefanie Zelkind, Director of the Wexner Graduate Fellowship/Davidson Scholars Program. "Their dedication to their chosen career paths and to their futures as leaders in the North American Jewish community is truly a cause for optimism and hope at a time when we need it more than ever. We are grateful to our partners at the William Davidson Foundation who share The Wexner Foundation's vision of investing in the future of our community by offering training and enrichment to the leaders that will guide us into the next generation."
The Wexner Foundation has more than 30 years of experience developing excellence in Jewish professionals and volunteer leaders in North America.
"We are delighted to welcome this newest class of William Davidson Scholars," says Darin McKeever, president and CEO of the William Davidson Foundation. "These scholars have always represented the most promising Jewish educators and communal leaders of their generation, and we are proud to invest in their personal and professional growth as they start a new chapter of their careers.  As this new cohort begins, we once again salute and thank The Wexner Foundation for their exemplary stewardship of the nation's premier graduate fellowship/scholarship program."
To learn more about Class 33, please click here.